There are some people who take an opportunity to make some resolutions at the start of New Year and make sure that they complete it by the end of the year and then there are some people who surely takes resolutions but forget about them by end of the week. 33-year-old Facebook CEO Mark Zuckerberg falls in the first category.
Every year he makes sure that he pledges something to fulfill it by the end of the same year. In past years he has made resolutions from running every day to eating meat that he has killed himself to start a book club and what not. He started taking these resolutions in 2009 and that time entire world economy was in recession and so as facebook, that very year he promised himself to take challenges and fulfill them. He started this ritual of resolutions with a very simple one that is wearing a tie every day. He feels that this is the best way to evolve himself and be a better person.
2017 is a tumultuous year for the USA, Zuckerberg took a resolution to visit different states of America in 2017 and meet as many people as he can. He wanted to talk to people to know how they live and what are their aspirations for better future.
His resolution for the year 2018 is to fix facebook's severe issues.He announced the same on Thursday through his Facebook post.He wrote, "The world feels anxious and divided, and Facebook has a lot of work to do — whether it's protecting our community from abuse and hate, defending against interference by nation states, or making sure that time spent on Facebook is time well spent. We won't prevent all mistakes or abuse, but we currently make too many errors enforcing our policies and preventing misuse of our tools"
In past two years, his social networking site has been dogged by the proliferation of hate speech and misinformation and have become persistent problems.He feels that Facebook has a lot to do with the kind world is shaping now divided and anxious. So it becomes a moral responsibility to protect the community from hatred and abuse. He wants to prevent Facebook from being misused to harm billions of users.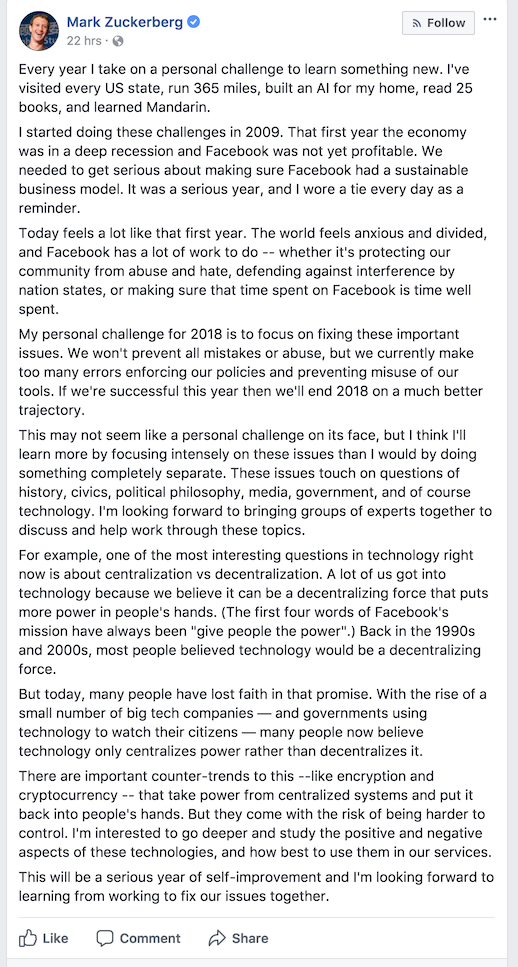 In his Facebook post, he also mentioned that "This may not seem like a personal challenge on its face, but I think I'll learn more by focusing intensely on these issues than I would by doing something completely separate. These issues touch on questions of history, civics, political philosophy, media, government, and of course technology. I'm looking forward to bringing groups of experts together to discuss and help work through these topics." also read ( 10 trending topics that Indian searched the most in 2017)
Zuckerberg also mentioned that he would love to go deeper to study negative and positive impacts of latest technologies like encryption and cryptocurrency. He feels these type of technologies take power from the center and give them back in the hands of the general public. But the risk is difficulty in controlling later on.