Cricketer-turned-politician Imran Khan has secretly married for the third time at the age of 68. According to PTI, Imran Khan, chief of Pakistan Tehreek-e-Insaf (PTI), married Bushra Khan on Sunday (February 18). Bushra Maneka is a spiritual trainer. Bushra Pinki is also popular with the name of BB(Bushra Bibi) and as per reports, she is a mother of five children.
Talking to a Pakistani news Channel about Imran Khan's third marriage, Pakistan Tehreek-e-Insaf (PTI) spokesman Fawad Chaudhary said, "A marriage ceremony was organized at the house of Bushra's brother in Lahore." Imran Khan had expressed the desire that marriage should be kept normal and that was done. According to him, only some nearest relatives of Imran Khan were present there. Member of the Central Executive Committee of PTI, Mufti Mohammad Sayeed has confirmed the marriage. Asking about Walima, He told it will also happen in coming days but Imran Khan wants it as a simple function.
Fawad Chaudhary also tweeted,"The marriage is a combination of two hearts and two souls who are meeting on the marriage day of marriage. I pray to Imran Khan a happy and rewarding marriage."
Marriage is the combination of two hearts and two souls, which join each other on this special day of your wedding. Wishing you two a very happy and blessed married life! @ImranKhanPTI

— Fawad Hussain (@fawadchaudhry) February 18, 2018
"The media wing of PTI had released pictures of the marriage yesterday. Among them, Imran is in white kurta pajama and black jacket, while the bride Bushra looks in a red suit and woolen shawl, None of Imran's sisters were present in the marriage, so rumor spread that the leader has not spoken to his sisters in this regard.
Wishing Chairman @ImranKhanPTI and his wife a happy married life . May Allah bless the couple. #MubarakImranKhan pic.twitter.com/BYHQ9CCaA8

— PTI (@PTIofficial) February 18, 2018
Imran has already done two marriages.
Emraan's first wife was Pakistani-British journalist Jemima Goldsmith, with whom her relationship lasted for 9 years. Imran Khan has two sons from Jemima Goldsmith.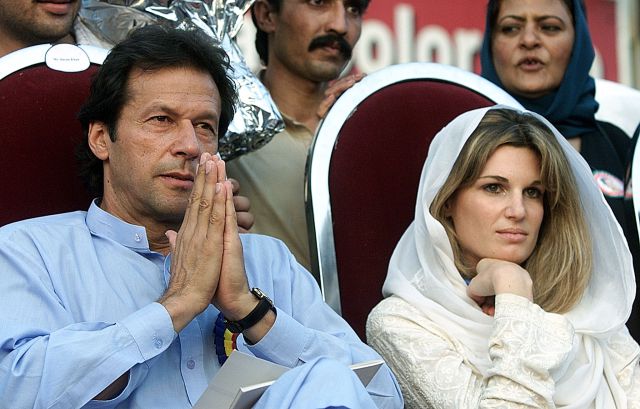 Source                        Imran Khan with his first-wife Jemima 
After this, PTI chief Imran Khan had married 42-year-old Reham Khan  Khan in January of 2015, but in October the same year, the relationship broke up. Imran Khan's marriage with TV journalist Reham Khan lasted for nearly nine months.
Source                  Imran Khan with his second wife Reham Khan
However, last month it was in the news that former Pakistani cricketer Imran Khan has been married for the third time. At that time, Tehreek-e-Insaf (PTI) spokesman made it clear, he clearly stated that 'Imran Khan has proposed a woman named Bushra Maneka for marriage. However, the girl has not yet agreed to the marriage. In this official cleaning, it was conveyed that a woman named Bushra Maneka had asked for some time for this.